T-Force were a organization founded by Tompon
In the year 2969, a Space Vampire named Tompon was caught sucking blood out of a used tampon. Went to prison for 10 years found a formed a group called the T-Force which has people from all over the Tomgalaxy. For the love of used blood
Prominent Members
Edit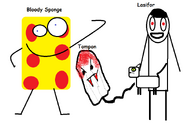 Tompon had his fangs has the ability to turn into a tampon with wings.  Beaver Damn who is a Space Beaver equip with a Teeth that can bite through steel.  Bloody Sponge who is a Space Sponge who sucks blood. He is equipped with the latest in Tampon weaponry. And their retarded, Dog Nemm Nemm is equip with Down syndrome and Austism Lasifor he loved cats. Tomrex the ability to dress up as a woman and not be able to reach stuff.
Ad blocker interference detected!
Wikia is a free-to-use site that makes money from advertising. We have a modified experience for viewers using ad blockers

Wikia is not accessible if you've made further modifications. Remove the custom ad blocker rule(s) and the page will load as expected.